Pawanji says that he sometimes wonders how the illiterate see the world, because he finds himself forced to read everything he comes across – Billboards, road signs, shop names, books etc. We appear to largely live in a mental world created by words and images that we confuse with reality.
To see things as they are, we need to come out of the brain fog of manufactured narratives. When our observation or lived experience contradicts a narrative we believe, the result is a cognitive dissonance that can, if we pay attention, lead us towards the truth. Here are some examples to show you what I mean. The first one follows from the previous week's post.
The narrative: India was a very poor country.
Crack in the narrative: Where did our uneducated, 'uncivilized', tribal women get so much silver from? Especially since there are no silver mines here. (Also, what did the colonizers come here for? To improve our lives?)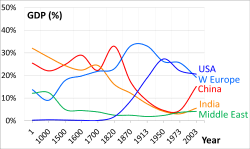 The above graph is from: Maddison A (2007), Contours of the World Economy 1-2003 AD. Note that from 1 AD to 1700 AD India and China together accounted for over 40% of the world's GDP. (More information here)
The narrative: India has a largely oral and not a written tradition.
Crack in the narrative: India possesses an estimate of ten million manuscripts, probably the largest collection in the world. (Ref: National mission for manuscripts)
The narrative: For centuries, the Indian social system is primarily defined by an evil caste system.
Crack in the narrative: Would not such an autonomous, decentralized, stable, adaptive, dynamic, self-reproducing social organization, also neutral to all political, economic, and religious doctrines and environments be the most ideal system if one really existed as such? (This is a direct quote from here)
One can go on and on. Science and math and social science will all have many areas that will lend itself to this type of analysis. If our children spent time looking at all their school textbooks with a critical eye, would they have a better education? What do you think?