"Knowledge is, paradoxically, a knowledge of the Unknowable, a thought of the Unthinkable, a vision of Things unseen, an audition of Sound unproduced. It is ultimately knowledge of That which shines forth when we see or hear or think, and is then alive in us, being the only seer, hearer, thinker – itself unseen, unheard, unthought within us. All formulations of traditional knowledge are thus indirect and symbolic, all learning a remembering and all education a rekindling. Traditional methods of education accordingly are graduated forms of indirect communication."
– From 'Illuminations' by A.K. Saran
Of the 500 copies of 'Illuminations' printed by Central Institute Of Higher Tibetan Studies (CIHTS) in 1996, I could still find copies to buy in 2018. That, and the fact that most people in India have never heard of A.K. Saran, is a sad commentary on how we treat our wisest men. I was so inspired by reading Illuminations that I bought many more books in the series. All of them written in luminous, inspired, difficult-but-addictive prose (and some poetry), moved me deeply.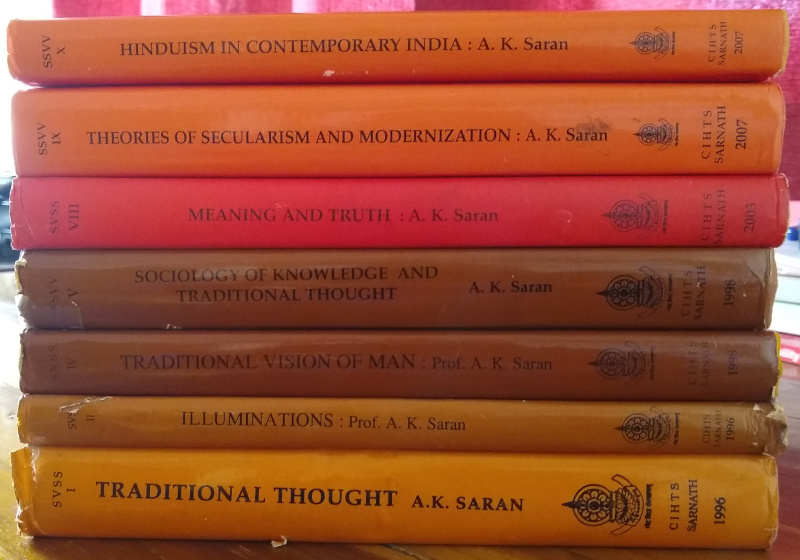 In this post I want to talk about 'Illuminations' which I consider a very important book for people with an interest in education. But, I can provide no links to it as there is practically nothing about A.K. Saran or his work available online. What I will do instead is to copy passages from the book as answers to hypothetical questions from a reader. I hope you get the flavour of A.K. Saran's wisdom.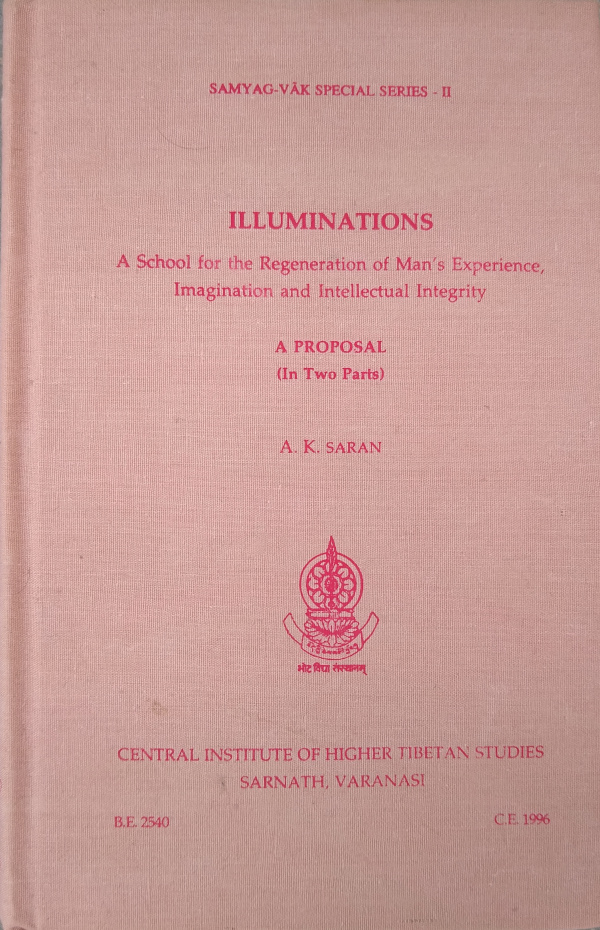 Reader question: Illuminations is a proposal for a new type of school that awakens us from the unconsciousness induced by our schools. Is my understanding correct?
A.K. Saran: Indeed, it is unbelievable but true that our entire academic and educational establishment – schools, colleges, universities, institutes of advanced learning, research centres, research projects, seminars, conferences – is working incessantly, formally and informally, to keep us etherized upon the table, trying to ensure that we may never have the scorching but maybe the cathartic experience of the flames. Excess of chloroform is our fate.
Reader question: How will the school work?
A.K. Saran: The plan for this school is simple. A small group consisting of postgraduate students and young teachers from different universities (and also from outside them) and a few scholars (both from and outside academia) with varying degrees of familiarity and intellectual affinity with the aims (and the doctrines) of the school will be invited to live together at a carefully selected place for a period of two to four weeks or so. The idea of living together is important. What we have in mind is something deeper and richer than just the requirement that the participants should not be scattered but lodged at one place and should breakfast, lunch and dine together. We envisage not only a gathering but an in-gathering of the participants. There should be a general feeling for the goodness of living a shared life, the intellectual deepening and enrichment being an integral part of it.
An anthology of passages and sentences from diverse sources has been made. This will serve as a kind of sourcebook which will be circulated to members of the school in the hope that each one of them according to his or her mental level and habit will be hit hard by one or the other passage. The community setting and the presence of scholars of different levels and types of intellectuality are then expected to provide help to the participants in delving deep.
Reader question: How is it possible to get through to minds conditioned and saturated by modernity?
A.K. Saran: The first requirement of such a situation is to get out of the tradition-modernity antithesis or dichotomy. Education aims at truth, and not at desired types of mentality. The second requirement is to create a free, uncluttered intellectual space so that there can grow genuine receptivity in the minds shaped and equipped by the present educational system for gullibility of one sort or another. The third requirement of our present pedagogical situation is to restore the internal relation between knowledge and action, theory and praxis, thinking and living; a relationship that modern education completely disrupts.
Reader question: There are many ideologies and we are taught that truth is relative. What do you think?
A.K. Saran: A crucial first step towards intellectual and political freedom is to realize that freedom of thought is defined by love of truth, not by intellectual philandering, by mastery of passions, not by passion for opinions, by the ability to think originally and upstream, not by a sort of monomaniac search for and pursuit of the novel and the exotic. Intellectual and political freedom is constituted by the opportunity to pursue the ultimate good, not by the liberty to 'think' what one likes and do what one wants to do.
About Professor A.K. Saran: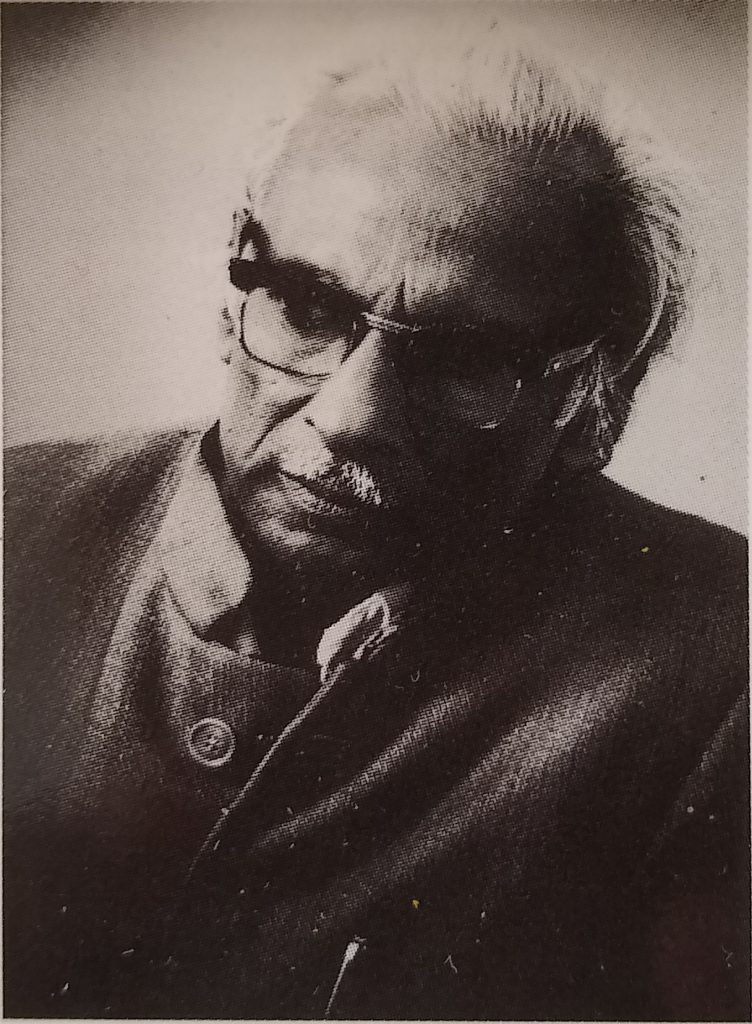 Professor A. K. Saran (1922-2003) is known as one of the most radical spokesmen of Tradition in today's world. Following contemporary exponents of the Perennial Philosophy such as Ananda Coomaraswamy, Rene Guenon, Marco Pallis and Frithjof Schuon, Saran especially took on the negative side of the task as his vocation – i.e., breaking of the "spell" by which modern man has been deluded into the suicidal pursuit of a mirage, becoming utterly forgetful of who he is and of the eternal truths that Tradition embodies.
Serving for a long time as a teacher in the fields of social sciences at various universities, both at home and abroad, Saran's consistent endeavour was, thus, to work out thorough internal critique of those pseudo thought systems of modernity. This internal critique – critique proceeding dialectically from within the very system that is being critiqued – is of a quite unique kind; in spite of certain seeming similarities, Saran's critique of modernity is totally distinct from fashionable discourses like that of "alternative outlook", "new age", "postmodern", or "postcolonialism" – all of which, for Saran, are simply new devices for masking the truth.
– From the blurb on the dust jacket of one of A.K. Saran's books
Links for further study:
A.K. Saran at the 'Studies in contemporary religion' website here.
The Coomaraswamy Foundation set up by students of Professor Saran has a website available here.