Over the years, SIDH has published more than 40 books in Hindi and English. This post highlights one such book, first published in 1998, which was based on research done by SIDH on what people from the Tehri-Garhwal area wanted from education.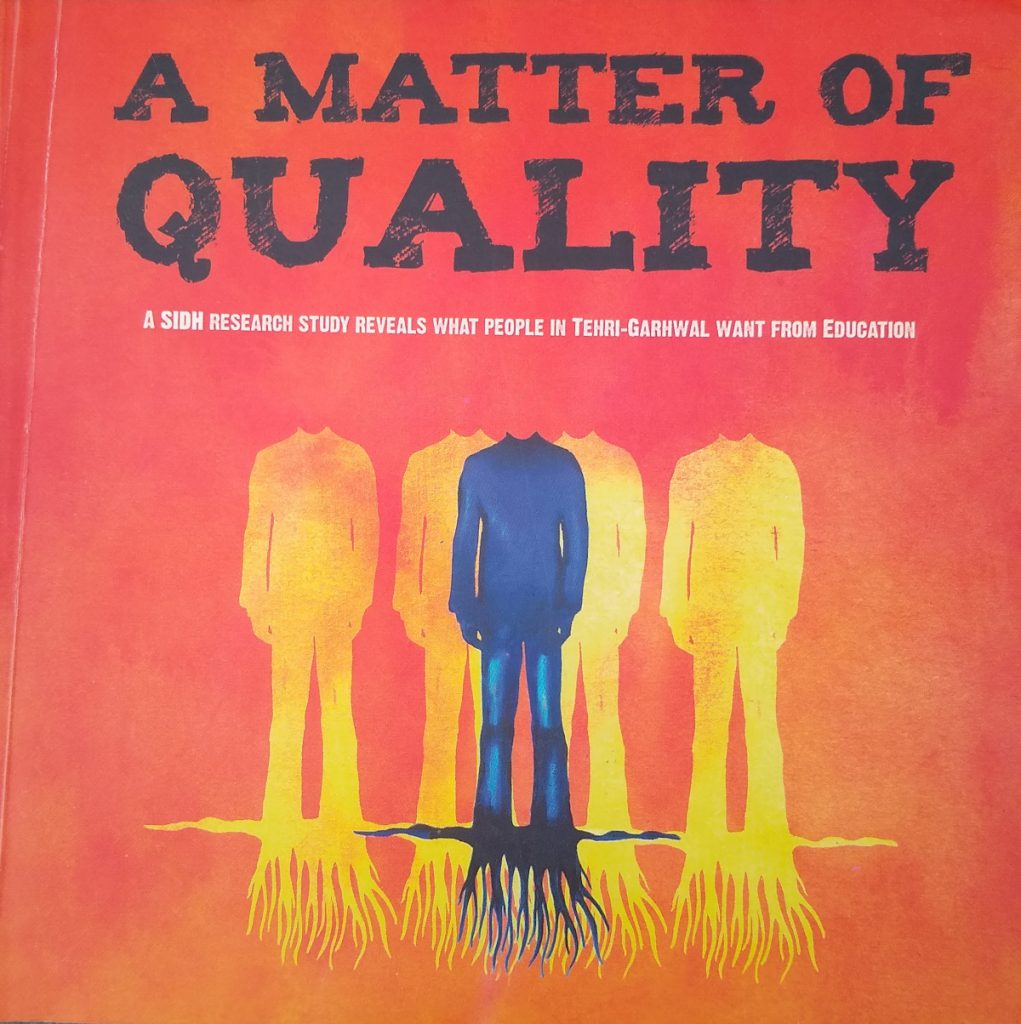 Here are some excerpts from the book.
Excerpt 1: (Preface to the first edition, page VIII)
This project was a tremendous learning experience for the research team. We examined ourselves as much as we examined India's education system. During the course of our study, we realized that perhaps our colonial past has caused us to forget how to speak out what we really think or feel. Instead, we speak what we presume others want to hear. Our aspirations are molded by the dominant classes, who we tend to imitate rather than challenge.
Excerpt 2: (Summary, page 11)
Rural parents strongly criticized modern education. They felt it had alienated their children from the community and its belief systems. They felt it had fostered indifference towards land, family, culture, and customs. The disenfranchisement of literate youth from their land, culture, and their feelings of superiority over physical labor seem to be one of the most destructive aspect of the present education system.
Excerpt 3: (Summary, page 12)
Respondents have made it clear that the people want a value-based education system that will help their children become useful, productive members of society. What the education system has done – alienating the child from his own society and encouraging him to be a market-driven consumer – is self defeating. The disappointments and frustrations of the parents in this study are mirrored in the hearts of people throughout our nation. It is abundantly clear that the present system does not serve our children properly.
Excerpt 4: (Discussion, page 25)
During the course of this study, while the urban parents lamented that their children have become spoiled (bigad gaye hain), the rural parents expressed their despair that their children have become ruined (barbaad) by the education system. This is a significant distinction. In urban areas, people have largely accepted the utilitarian role of education. They have no land holdings or an income source of their own, and so no longer expect their children to be self-employed. They are only lamenting that the children have been spoiled, which is manifested in: 1) rude behavior towards their elders, and 2) spending beyond their means. For the rural community, however, the effect of such an education is quite severe because what their children are losing is an already established system of self-sufficiency.
Excerpt 5: (Conclusion, page 42)
SIDH, too, believes that given the right direction, education could turn towards upholding humanitarian values and result in a peaceful and fearless society. Our study proves that, today, public opinion is in favor of such a change in education – may be it always has been, but never listened to.
(The list of publications is available on the SIDH website here. If you want copies of 'A matter of quality' or any other publication, please use the contact form on the SIDH site to place your order. If you face any problems, please write to me at arun@aslishiksha.com.
'A matter of quality' is also available for free download at Arvind Gupta's website here.)