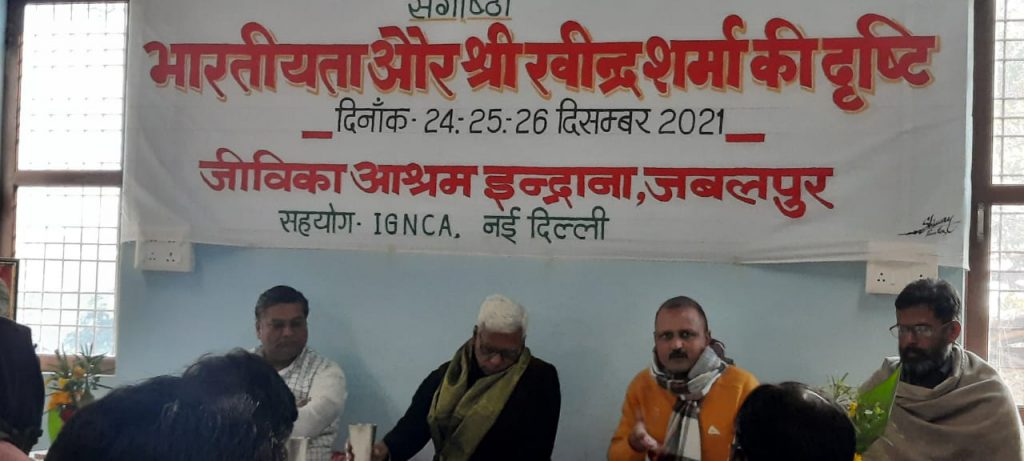 On the second day, I liked Sant Sameer's presentation on bhāshā. It was informative and useful to my rudimentary interest in languages. Sant Sameer's claim that Indic scripts (he was referring to devanāgri in particular, but I guess it would apply to all Indic scripts) represent the 'a priori reality', what he called ādhāra and nothing is written without it. In devanāgri the horizontal like represents this. I thought this is a serious proposition and we must take it further. It was however quite sad, when this proposition was challenged by some non-Hindi speakers, since Dravidian scripts have no horizontal (or vertical) line. I thought it would be useful for them to accept Sant Sameer's proposition on ādhāra with an open mind and explore into similar affirmation for Dravidian scripts; is there a conception of ādhāra in these languages, and if yes, how is it represented?
In afternoon, Gopi Krishna presented his experience with Pastoralist communities in India. Gopi's experience with these communities is very rich. His 10 min presentation was quite profound. Amongst other things, his assertion that these ghumantu communities weave together civil with wild as they move with their animals is extremely important. For example, a wandering sheep cannot be categorized as either a wild animal or domesticated. And as the shepherd walks with his flock, he weaves a symbiotic relationship between forests/grasslands and agricultural fields. Perhaps, one trait of modernity is the strict divorce between the civil and wild. In the same session, Vaibhav Kale spoke about how modern construction has limited "material palette" to only RCC and steel primarily; mud, wood, bamboo, straws, stone etc. have nearly vanished from our contemporary construction activities. In the same session, I attempted at presenting a non-utilitarian view of technology by narrating the story of Art and Society and situating technology in that.
The evening session was on the perspective of Kalā. This session took the entire 3 day meet to another level. Susruti spoke beautifully on the relation between 'Art and Spirituality' and Sachin shared his experiences with different materials and craftsmen from different parts of the country. I hope these presentations were recorded well and would be available soon for viewing and sharing. I am refraining from writing about them here, as I wish to only share the recordings.
Post lunch, there was a beautiful Kathaka dance performance by a troupe of young dancers. I am really impressed by Ashish's ability to form connections with local people in Jabalpur. I think, these connections will go a long way in growth and acceptability of Jeevika Ashram in times to come.
Overall, the three days went by very quickly with some great company and very powerful presentations.